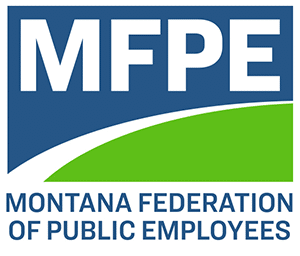 MFPE 2019-2020 Internship
Position Announcement and Job Description
The Montana Federation of Public Employees (MFPE) seeks to hire 2 part-time or full-time interns, based in Helena, to be employed between September 30 through April 4. These challenging entry-level positions will work closely with MFPE's Political and Organizing Directors on our member to member organizing and political campaigns.
MFPE is Montana's largest union, representing and advocating for over 24,000 members working in state, county, and city governments, k-12 school districts, and the Montana University System. MFPE exists to promote the welfare of its members by representing them with respect to all terms and conditions of employment. We are a union of professionals who champion fairness, democracy, economic opportunity, high quality public education, and healthcare and public services for our families and communities.
REPORTING TO: MFPE Political Director, Lauren Caldwell, and MFPE Organizing Director, Morgan Smith
LOCATION: Helena, Montana (MFPE may be able to help with supporter housing if needed)
DATES: For a part-time internship, the internship will run for 24 weeks between September 30, 2019 and April 4, 2020. For a full-time internship, the internship will run for 12 weeks from September 30, 2019 to December 20, 2019 OR January 13, 2020 to April 4, 2020. Dates are somewhat flexible if necessary.
COMPENSATION: $15 per hour
TO APPLY: Submit a cover letter, resume, and contact information for 3 references to Lauren Caldwell, MFPE Political Director, at [email protected] Applications are due September 13, 2019.
DUTIES INCLUDE:
• Weekly meetings with MFPE Political Director and MFPE Organizing Director to review and adapt activity plan;
• Joining supervisors to participate in labor coalition events and local meetings (requiring travel);
• Working with both supervisors to track member engagement in the VAN database;
• Assisting the MFPE Organizing Director in the MFPE member organizing project through door-to-door canvassing, phone banking, texting, and data entry;
• Assisting the MFPE Political Director to conduct the research necessary to launch, plan, fundraise for, and execute the campaign to defeat LR130, the pre-emption referendum that would remove the existing authority of local government (including schools) to regulate firearms in their jurisdiction;
• Assisting MFPE Political Director to build and execute the 2020 MFPE Political Plan, including phone banking and texting activities, and fundraising through MFPE's national affiliates, the NEA and AFT;
• Assisting MFPE Political Director to create the MFPE School Bond and Levy Campaign Toolkit;
• Participating in MFPE's long-term communications plan, including digital organizing efforts;
• Participating in the planning and execution of major MFPE events, including the fall Educators Conference, which regularly includes between 2,000 and 3,000 educators, and the spring Annual Conference, with over 300 attendees from local affiliate unions across the state;
• And contribute to grant requests to the NEA and AFT for member organizing and electoral activities in 2020.
This is an entry-level position. Successful applicants should have a desire to learn about union organizing, an interest in campaigns and elections, be self-motivated and able to work independently, highly organized with a keen attention to detail, strong written and verbal communication skills, and computer literacy.